About These Pages
These pages were hand coded on various machines over the years (all three major OSes represented.) I haven't updated them from my phone yet, but I'm sure that day is just around the corner.
---
The Author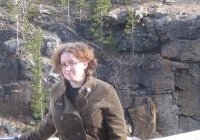 Background
I graduated in May 2003 from Bryn Mawr College, with a somewhat ill-timed degree in Near-Eastern Archaeology. Took a year off, went to Uconn for Historical Archaeology. Left with an MA, although I had originally planned to do a PhD. Spent a lot of time
As of 2004 I am now at a University getting my PhD in Anthropology (Historical Archaeology concentration.) I get to hanging out in cemetaries, libraries, the anthro student lounge, the copy room, and the occasional pub. Took a few more years off, tried to get my head together, and finally, in 2009, applied to and got into a special program to become an APRN. After working with Cystic Fibrosis patients - many of them the same age as me - I decided to formalize the medical information I've absorbed passively over the years.
Random Stuff
People think 'archaeology' means exotic locales. My first dig was in South Dakota, at a brick factory. It was made of, and made, bricks.
I worked on an organic farm for one summer, which was awesome. I cannot, for some reason, keep houseplants alive. I was always assigned to weeding, harvesting, and cleaning.
I'm into alchemy as an interesting set of metaphors for psychological growth and development, in a sort of Jungian way.
I share a birthday with Internet Celebrity
Wil Wheaton
.
---
Send comments to Cobalt via Contact Page
Page last updated 9 May 2010.